Our former boat
Truculent Turtle - Our Previous Boat

| | |
| --- | --- |
| | Truculent Turtle is a (mostly) professionally maintained 1978 (or 79, not clear) Lindenberg 26. She was originally owned by Dean Mulder in Annapolis and was donated to the St. Mary's College Sailing Program at some point and then picked up by Skip Zahniser in Solomons and raced extensively on the bay (winning just about everything). I bought her from Skip in 2000 and now berth her on the West River (Chesapeake Bay) and race spin-C on Wednesday nights. We rate 168, owing about 6-seconds to most of the other boats in the fleet. |
For me, this boat is a down-wind screamer, pointing lower and going faster than any other boat in our class. Upwind, we at least hold our own, and I believe we would do better if I was a better upwind helmsman. The boat can do it, I lack the skills :-) Even so, it is rare that we don't finish in the top 4 and our toughest competition are the S2 7.9s and a new SR71 that joined the fleet with a very capable skipper.
She has a modified rig (which I think was done by Mulder) -- the boom was lowered a foot or so, and extended, so we carry a much larger mainsail than any other Lindy, a huge advantage in light air. The boom is still high enough not to pose a problem for tacks and jibes, but low enough not to need a step to get it hooked up. This costs 6-seconds in the PHRF rating.
I have the bottom professionally done every year using Baltoplate paint and successive burnishing with finer grit sandpapers down to 600 wet. The bottom paint was removed in 2006. I had the hull awlgrip-ed in 2006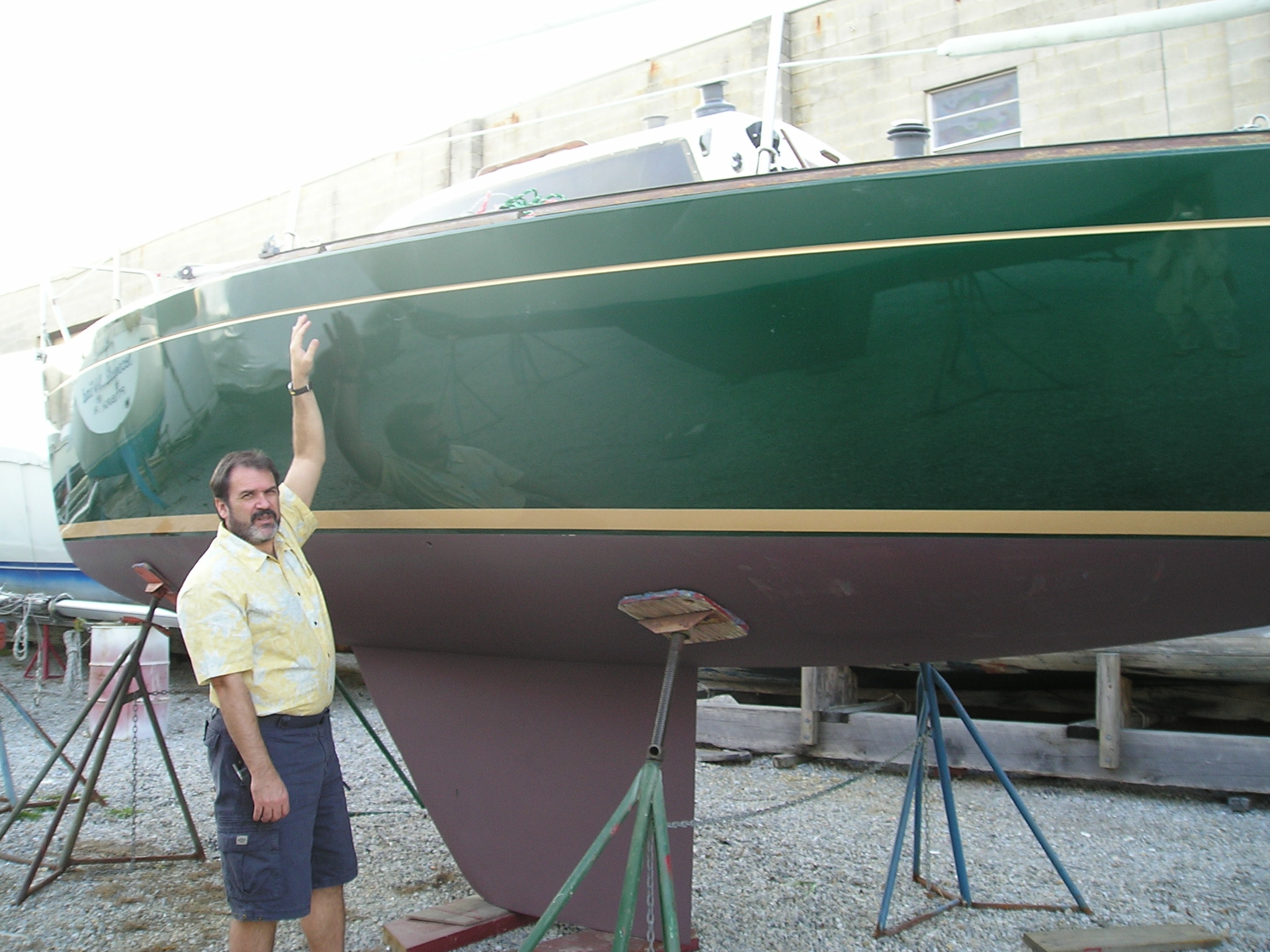 For cruising comfort, I had custom, removable stainless plates made so that I can alternate using a main with slides or a main with a bolt-rope. I also added some pad-eyes to the mast and boom to run a simple lazy-jack system, again for use in cruising mode. Currently I have a very thin-diameter vectran lazy-jack line running and pulled out of the way for racing. Easily removed if the boat will only be used for racing.
The only other major mod I've made is to replace the genoa winches with Antal self-tailers and move them outboard, opening up the cockpit.
This boat has an adjustable backstay and not the hydraulic forestay or babystay. She has both inner and outer genoa tracks.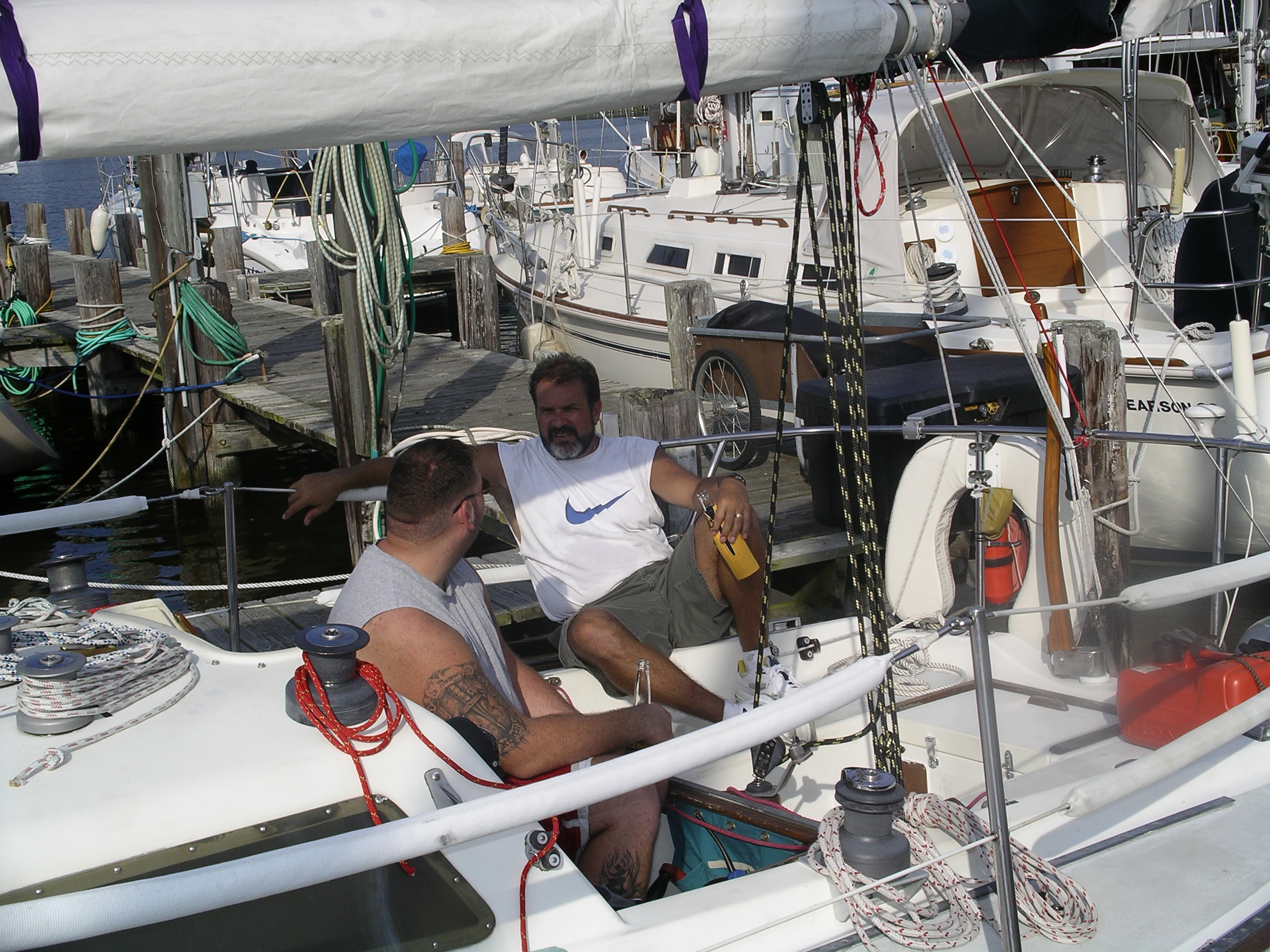 Interior has the usual stuff, but with a porta-potty.
Here are some other key items:
New battery 2007.
New Engine Fuel Tank and Fuel Line, 2007.
New bottom paint (Balto-plate, burnished) 2007.
Hull Awlgrip and graphics, 2006
New anchor/steaming light, masthead VHF antenna and windex, 2006
New running rigging (with tapered spin sheets), 2005
New Life lines, 2005
New electrical breaker panel, 2005
New UK Mainsail (Yarn-Tempered), 2005
New UK 155% Carbon Genoa, 2004
New Honda 8hp 4-stroke long-shaft outboard with alternator and electric start, 2004.
New North Norlon Spinnaker, 2003.
New GPS Chartplotter in cockpit, 2003.
New interior CD/Stereo, 2003
New interior cushions, 2002.
Older Dacron #2 and Kevlar #3, which I've only used 2-3 times each.
Older mainsail and 155 used for cruising.
We loved the Turtle and did well with her on Wednesday nights in Galesville. She is now the proud owner of a family in Alexandria VA. We've moved on to a J 35 "Uncle Joe".